If you want to discover 3D Printing and the astonishing results you can attend from the best 3D Printer on the market, you can eventually also ask us a sample !
From any .stl file of your choice, we will send you at home for free a 3D printed part, printed with any machine from our parc of 3d printers.
However, we are not a dedicated printing service company so those prints are reserved for potential customers willing to buy new machines and that needs a demonstration to help them decide.
Over a few hours of prints, we can issue you a pricing at 5 to 10€ an hour depending the complexity of the part you want to print.
An other possibility is for you to make use of a very good partner of ours that will give his best to satisfy your need
: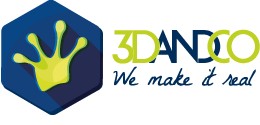 3DANDCO
(+33).(0)3.64.38.56.56
http://3dandco.fr/fr/
Upon you choice, we can edit on request a pricing for large series of parts thanks to our network of makers we will certainly find ways to help you sort your project out !
As well, we can easily scan parts for any customer that wants to try the quality of our scanners available !
Ask for more :